Ron Warhurst, who coaches Nick Willis, told me last year, "All milers think they're kickers. It's just that some are better than others." That is a true statement in a general sense, but there is a greater truth that is at work sometimes, and it could be seen in Marrakech last weekend.
The final major 1500m of the year, at the IAAF Continental Cup, was an exhibition of extreme sit-and-kick. Beyond that, the race was more than simple proof that male milers are all sprint specialists with oversized egos. It also went to challenge the popular notion among many fans that all the race needed was somebody with the balls to make the pace honest, and then we wouldn't have a crazy sprint finish that leaves some of our favorite runners in the dust. That concept, at least in the States, we can probably thank Steve Prefontaine and his legion of fans for.
That slap in the face? That's reality.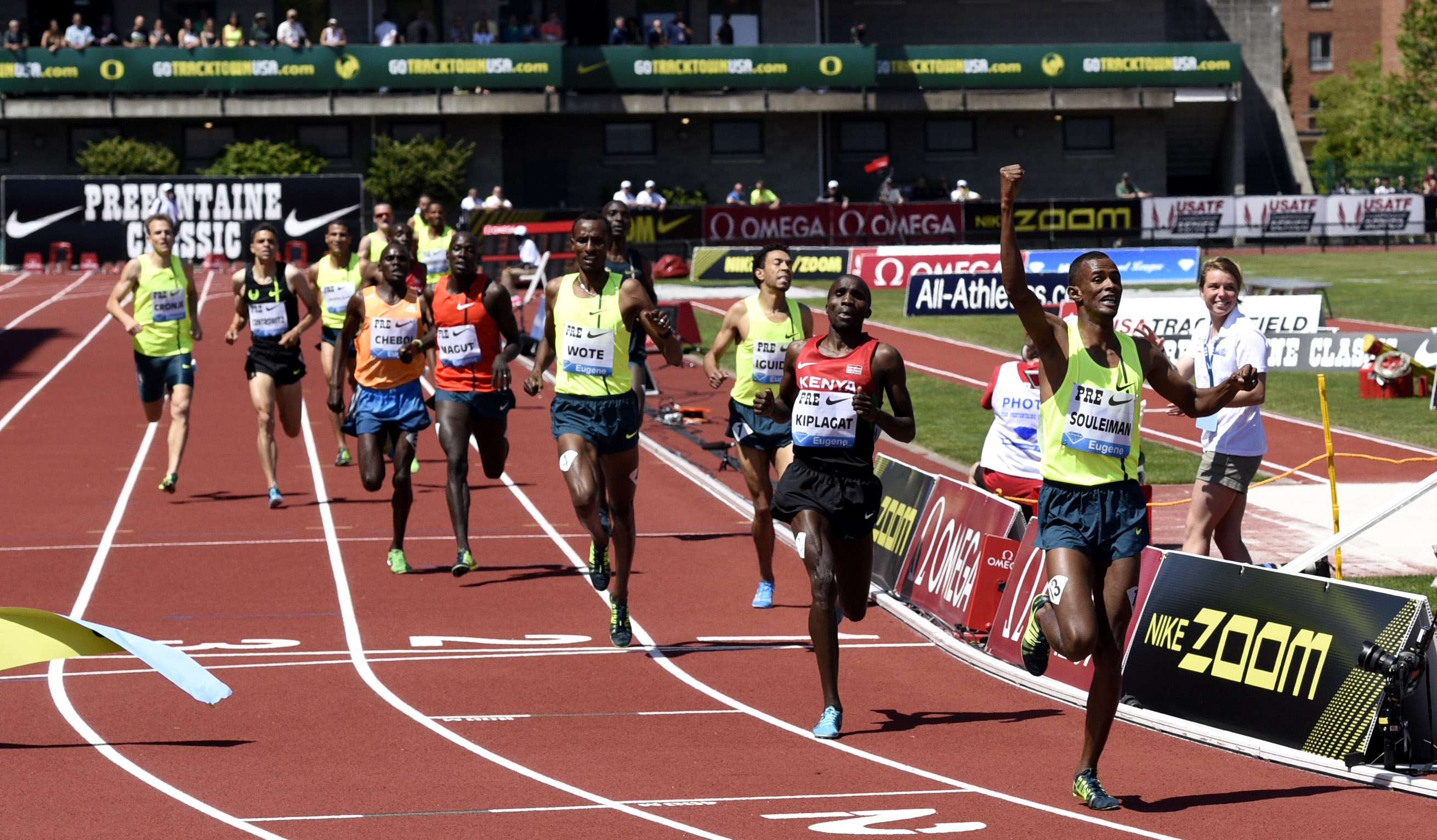 Souleiman demonstrated his kick in his 3:47.32 victory at the Prefontaine meet. /courtesy of Track And Field PhotoMagazine/
Ayanleh Souleiman grabbed the victory with deceptive ease, and no amount of courage among the other competitors could have changed that.
In some past versions of this race, there have been informal pacing agreements to help the runners cope in the absence of a rabbit. We saw that in 1977 with Thomas Wessinghage and Steve Ovett, and again in 2002, with the controversial Bernard Lagat/Seneca Lassiter situation. In the cool of the Moroccan night, however, no agreements were made. So Henrik Ingebrigtsen took the early lead, presumably against his will. The 32-second first 200m stood as proof of that. Not that Ingebrigtsen felt he had a fast race in his legs. "The tank's almost empty," the Norwegian said. "It has been a long season for everyone. You can't set records from April to September."
Beside Ingebrigtsen jogged Souleiman and American Leo Manzano. The pace slowed more, and they passed 400m in 65.95. Nick Willis rode the rail in the back of the tight pack. A 69.93 next 400m didn't shake up anything, except to bring the New Zealander out of hiding. Willis made a half-hearted attempt to move into the lead on the backstretch, but Souleiman and Ingebrigtsen both held him off.
The racing began with 500m to go, as European champion Mahiedine Mekhissi-Benabbad tried to move up, and Souleiman & company braced themselves for the final charge. Asbel Kiprop made the boldest move, dropping back to last and then scooting around the pack to join Souleiman in the lead as the bell rang. Willis was then trapped in mid-pack, as Manzano had dropped to last. They hit 1200m in 3:12.12, a 56.24 circuit.
Souleiman controlled the pole position, and the chase began in earnest. On the homestretch, he and Kiprop floated away from the pack. The Kenyan pressed hard, but with 30m to go, Souleiman lifted and pulled away to victory in 3:48.91. His last 400, a stunning 50.09; last 300, 36.79. It was one of the fastest finishes ever in a championship setting.
In a race like this, what options do the also-rans have? Look at Leo Manzano. The man kicked his way to a silver medal two years ago (a 52.8 last lap in a 3:34 race). This year, the only 1500 he won was the USA Champs in 3:38.63, and that only took a 52.63 closer. In Marrakech he finished in the mid-51s. He simply does not have the speed to finish with Souleiman.
Or Nick Willis. He has produced some notable times in rabbited races this year, topped by a 3:29.91 for seventh place in Monaco (last lap 54.3). In his runner-up finish in the Bislett mile, he finished off a 3:49.83 with a 55.8. In his most important tactical race, he snatched a bronze in the Commonwealth Games at 3:39.60 off a 53.2 last lap. He is another who—at least this season—doesn't have the speed to handle the top milers.
Even the flamboyant Mekhissi-Benabbad, the Frenchman who won a slow Euro title (3:45.60) with a 52.17 finish, couldn't hope to run Souleiman down. He snared third in Marrakech, 0.62 behind the winner.
Perhaps the most impressive kick went to Kiprop, who finished second. His last 400m was nearly as fast as Souleiman's, but he started earlier, from farther back. His last 500m took only 1:02.8—a hair slower than a 25-second 200m pace. His mistake was giving the Djiboutian a head start.
So what options did these fine runners have against Ayanleh Souleiman? Could someone have gone out there and forced an "honest" pace upon the race? Something to make Prefontaine proud? Sure, but Souleiman would still have won.
Could someone have tried a longer kick, say 600m, and held on to the finish? Sure, but Souleiman would have beat him there. His last 600 was in the 1:16s (that's 1:41 pace for 800m).
Could someone have sat on him the entire way and produced a stunning sprint on the final homestretch? No. And even if they could, Souleiman still would have been faster. His last 100 was under 12-seconds.
That is not to say that on September 13, Ayanleh Souleiman was completely unbeatable. A faster pace early in the race would have given Kiprop the opportunity to beat him. Caveat: if Kiprop had been the one making the faster pace, it would have backfired. And no matter what the pace, Kiprop is doing himself no favors by dawdling behind the pack. His long stride makes tight pack running a dangerous proposition, but at a slow pace, he would lose nothing by running wide on the pack. It's called a pre-sprint warm-up.
Is Ayanleh Souleiman the best miler in the world? His 2014 record says otherwise, with only three wins in 10 outdoor finals. However, in Marrakech he showed just how unbeatable a great kick is. And he also taught us that while there are places where "guts" count (cross country races, marathons, and training sessions, for instance), on the track, speed is what wins.
Results (13 September 2014): 1. Ayanleh Souleiman (Djibouti) 3:48.91; 2. Asbel Kiprop (Kenya) 3:49.10; 3. Mahiedine Mekhissi-Benabbad (France) 3:49.53; 4. Henrik Ingebrigtsen (Norway) 3:49.76; 5. Benson Seurei (Brunei) 3:49.91; 6. Nick Willis (New Zealand) 3:50.00; 7. Leo Manzano (USA) 3:50.35; 8. Charles Philibert-Thiboutot (Canada) 3:51.97.