by Jeff Hollobaugh

Tardis, anyone? Surely there are other track fans that fantasize about time travel—not just to pick winning lottery numbers, but to drop in on track meets they wish they had seen. The 1973 Hayward Field Restoration Meet would be one of those. The main event would be a mile race between Steve Prefontaine, nearing the height of his abilities and still burning with the disappointment of his fourth-place finish at the Munich Olympics, and Dave Wottle, the ultimate racer who had left Munich with a gold medal that Pre only dreamed about. Yet this was more than just a race—to Wottle it was an eye-opening experience about what it takes to be a class athlete.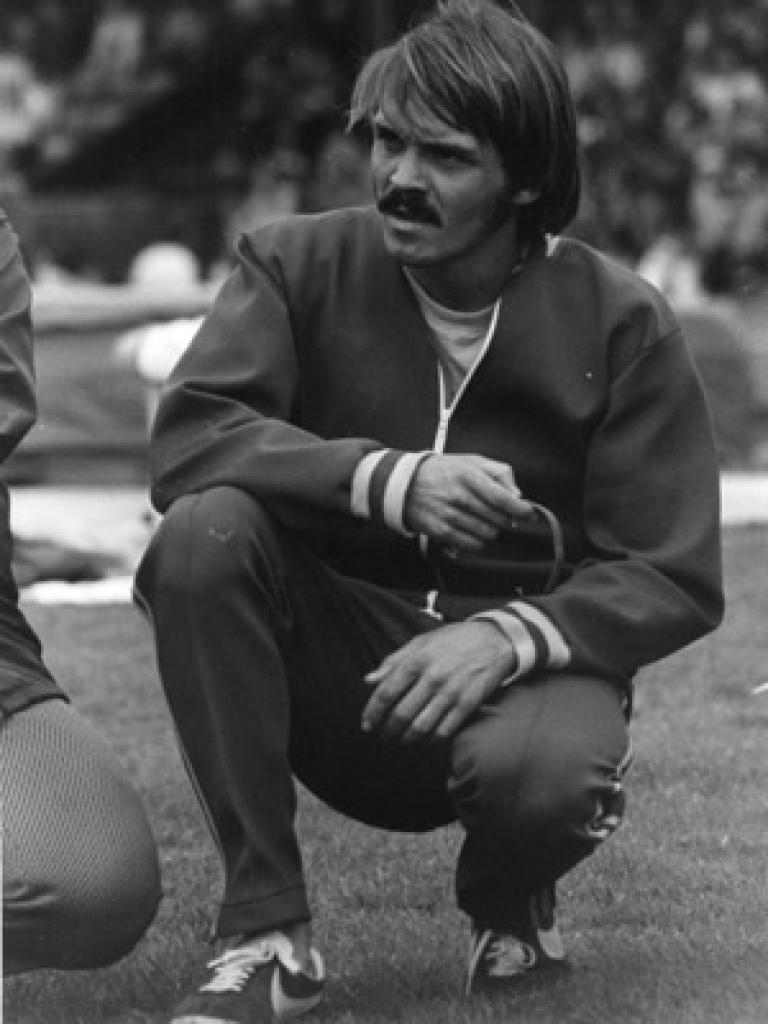 Photo by Jeff Johnson – used with permission.
This event was set up at to raise funds to rebuild the west grandstands at Oregon's historic track. According to Tom Jordan in his classic book Pre, the organizers put it together with just five days notice.
Some of the history of the mile matchup appears to have gotten tangled, as the Oregon track website says, "In a rare appearance as a rabbit, Prefontaine paced '72 Olympic 800 gold medalist Dave Wottle through an attempt at the American record…" In other contemporary accounts, it reads as if this was a pure race between the two legendary runners. Which was it really?
"It was both," clarifies Wottle. "Prefontaine agreed to pace me to a world record in the mile. And we were racing." The two had roomed together at the AAU Champs in Bakersfield, California, and had made plans to travel the European circuit together that summer. "He came up to me after he ran the three mile and I ran the half, he came up to me and said, 'What do you say you come up to Eugene prior to our going to Helsinki? We'll go after the world record.' He said, 'I will bring you through into 2:56 flat,' which back then was pretty unheard of for the mile. We used to go out in 3:00 or 2:59 back then. A 2:56 was fantastic. I said, 'Sure, sounds great.' So I went up there."
The World and American record back then was Jim Ryun's 3:51.1, set six years earlier in Bakersfield. For either runner, it would be a stretch, though one would think an 800/mile runner with a 1:44.3 world record to his credit would have a better shot than a 13:22.8 guy. Not that it mattered much—sometimes, it's just about taking that shot.
Gary Atchinson led the field through a 58 first lap and stepped off the track at about 650m. Pre then went to the front and hit the half in 1:56.8. "He took off. You can't have a better rabbit than Prefontaine. He hit 2:56 flat, right on pace. And then every man for himself for the last lap. Pre was a frontrunner anyways. He was basically saying, 'I'm going to pace myself to a world record. I'm going to go out quick and hit the pace and bring it through in a good time and then we'll race for the record.' "
Wottle, who had recently won the NCAA mile title, ran a step behind. Then Pre appeared to kick with 300 left. He couldn't shake Wottle, who stormed past with about a half-lap to go. The Bowling Green senior won handily in 3:53.3 to 3:54.6. The first eight runners set lifetime bests.
Their post-race quotes tell much of the story. Said Wottle, "I was waiting for the right time to kick. I felt I had him going into the last lap. He tried to break it at the three-quarter mark, but I hadn't even started to breathe hard then. I found out what I had always thought, that I can kick after a 2:56 or 2:57 three-quarters." He also had something left in the tank: "If somebody had come up on my shoulder, I had something left and could have gone faster."
Said Pre: "I'm not making excuses, but the mile is not my race. I don't train for it. I can race with anyone–with a little speed work I can do much better."
"To me it was a very basic strategy," recalls Wottle now. "All I had to do was hang with him for three laps and put myself in position to win on the final lap. So that was really my strategy there. I didn't think it through like Liquori with Ryun in 1971 where he just said, 'Hey I'm going to go out and take the kick out of him in the last 600 yards.' I wish there was more to it. I wish I could say that I was [a good tactician].
"A lot of people on the Internet say about that [Olympic] 800: 'What a great tactical race.' It wasn't a great tactical race. I didn't go in thinking I was going to run that race. You don't go into Olympics and give the guys 10 yards and reel them in at the end. That's not really the greatest strategy. Same with the 1500. It burned me a lot of times."
After the race, Wottle embarked on a victory lap but was surprised when Prefontaine joined him. "I remember Pre came up jogging beside me and held my arm up alongside him. I'm kind of ashamed to say, I was kind of like, 'What are you doing? Why are you holding your arm up next to mine? I just beat you.' And what he was doing was saying, 'You were able to run a 3:53, because I was able to run a 2:56 three quarters. That race was a shared victory.' I think he was also kind of giving his endorsement to the Eugene crowd that I was okay.
"I can remember just thinking that to me it was one person wins, one person loses, but he had the perspective that I wished I had. He kind of knew that often times, it's not you. It's your competitors and your coach and all the other things. It all mixes together to develop a world-class runner. I wish I had the perspective back them."
Postscript: It's worth noting that Wottle even had some kick after the Hayward Field race. He had thrown his trademark golf cap to the infield of Hayward Field, and a kleptomaniac fan grabbed it and ran away. Wottle chased him out of the stadium and into a nearby field, where the young man fell down and Wottle skinned both his legs tripping over him. He got the hat back.
Results (20 June 1973): 1. Dave Wottle (Bowling Green) 3:53.3; 2. Steve Prefontaine (Oregon) 3:54.6; 3. John Hartnett (Villanova-Ireland) 3:54.7; 4. Paul Geis (Oregon TC) 3:58.0; 5. Ken Elmer (Canada) 3:58.5; 6. Jim Johnson (Club NW) 3:58.8; 7. Scott Daggett (Oregon) 3:59.8.