Who is Sarah Kettel? More than a few Midwesterners surely asked that after the high school junior won the Nike Midwest Regional in Terre Haute, Indiana, a week ago. Even in her home state of Michigan, those who are familiar with the name refer to her as "that homeschooled girl" without knowing her backstory. How did she apparently come out of nowhere?
She didn't exactly come out of nowhere, but in running terms, close enough. If one were to look carefully through the previous year's Nike results, they'd find Kettel's name in 96th place. Not exactly headline material.
This fall is playing out differently. Kettel has been tearing up cross country courses all season, winning every race she has run and notching an incredible five races between 17:25 and 17:30. She came to Terre Haute hoping for a top five finish. It would be her first race this season against Audrey Belf, who won Michigan's D1 title in 17:19 and was undefeated herself.
Yet for Kettel, it all started inauspiciously. She grew up in Brighton, Michigan, and while she loved being active and playing outdoors, her experiences with the gateway sport of soccer were limited to age five or six ("I loved to run from one end of the field to the other with the crowd of kids who were chasing the ball"–kicking it, though, not so interested). After starting off in the public schools, she and her family opted to try homeschooling following first grade. Her mother, Dianne, put her career as a veterinarian on hold to school Sarah and her younger sister Rebecca. "I was a couch potato in high school. I took up running probably 12-13 years ago kind of as a stress relief. With little kids at home it was an efficient way to exercise myself and the dog at the same time. And get away from everything. I went from nothing to just really enjoying running," says Dianne, who eventually convinced Sarah to try some road races as a ninth grader.
The results didn't set the world on fire (46:34 in her first 10K in August 2012), but eventually another runner complimented Sarah by saying that she might be good enough for a college scholarship.
For his part, her father Richard—himself a sub-17 type as a high school runner—started to have his eyes opened midway through the Ludington Lakestride Half-Marathon. "I saw the first female coming by and I saw Sarah like 50 feet behind her. It really hit me then, 'Wow, she's got a lot of talent.' And the second thing that hit me was she's going to have to learn to pace herself.' I think she ended like 15th or something for the females."
"That was exhausting," says Sarah of her half, which she ran in 1:45:32.
The enjoyment Sarah experienced on the roads got the family interested in finding cross country and track opportunities. Richard called the athletic director at Brighton High School, as well as the Michigan High School Athletic Association. For home-schooled athletes to be eligible for school sports in Michigan, they generally need to take four classes through the local high school. This can include online classes. (In neighboring Ohio, the state legislature in 2013 allowed homeschoolers to participate in school sports without taking any school classes.) However Sarah remained committed to her homeschooling—"It has been amazing"—and had no interest in changing her program. A student with a very keen intellect (favorite book, John Bunyan's The Pilgrim's Progress, written in 1678), she is intent on eventually being a nurse or perhaps a physician assistant.
So the Kettels started contacting various homeschooling organizations in Michigan. After hearing of a homeschool athletic organization in a nearby town, Richard says, "I called them, and they said, 'Well, we don't have a cross country team. But if you'd like to coach it…' And I'm like, 'I haven't run in 29 years. I'm not qualified to be a coach.' Then I did some more searching and I found the Lansing group which has been a blessing. It's still a bit of a drive, but it's worth it."
The Capital Homeschool Athletic Program offers eight different sports. The cross country team was still in its infancy, having been started in 2011 by Kevin Shoemaker, who admits, "I started the program primarily for my own kids. We're a home-schooled family, and I've got four kids, and I've been a runner, ran in high school and college. My kids were sort of intrigued by watching me run, they were like, 'Hey let's try this. It would be fun to run with you, Dad.' And so we started to run a little bit, and I got some interest from one or two other families that I knew were interested. Honestly, the first season, I didn't even know if we were going to get seven kids. Things have just taken off. Our team has grown tremendously."
Currently, the Chariot high school squad has 33 runners; the program offers only two other fall sports, boys soccer and girls volleyball. Shoemaker added a track & field program in 2013. He says there are about six similar homeschool cross country in the state of Michigan.
The dynamics of the team are not entirely unlike most public school teams, but there are differences. Athletes must practice at least three times a week with the team to ensure the squad remains primarily local. Coach "Shoe" leads prayers before and after practice. Not surprising, since he is the pastor at East Lansing's Capital City Vineyard Church.
He says, "We're not affiliated with any particular church, and we have kids from all different churches that are affiliated with our team. Obviously, I'm a Christian, but you don't have to be a Christian to be on the team. You don't have to be a Christian to homeschool. So we'll take anybody that's homeschooling their kids and wants to participate in our program. But by the same token, I'm not ashamed in any way of who I am and what I believe… That's just part of who I am, and people know that, and if they don't want to join the team because of that, that's their choice… We talk about Hebrews 12:1: 'Let us run with perseverance the race marked out for us.' That captures not just the physical reality of how we run cross country, but also the spiritual reality of how we live our lives."
Shoemaker ran collegiately at D3 Hope College in Michigan, making all-conference in 1986. He also filled in for a year as an assistant cross country coach at Hope when another coach took a leave of absence. "That's where I got my first taste of coaching and I really enjoyed that experience," he says.
When Sarah Kettel and her younger sister Rebecca showed up for their first Chariots practices in the summer of 2013, Shoemaker saw that they would make a nice contribution to the team. By the second race, he realized that Sarah showed frightening potential. "Her first race, she didn't win. She came in eighth place. And she did well, but it was like 20:12. But I didn't know how good she was going to be. Our second invitational, we ran the Bath Invite. And she went out fairly conservatively, which she likes to do generally. But then she started moving up and picking people off and halfway through the race, she was in the lead. I was like, 'Holy smokes, where did this come from?' By the end of the race, she had held onto that No. 1 position and pulled out the win, I was just shocked. I was like, 'Wow, she's better than I thought she was going to be.' "
The progress continued. By the end of the season, she usually ran in the 18s, with a best of 18:23. She tested the water of national competition at the Nike Midwest Regional, but that didn't go so well. "It was a muddy, windy mess… It was so muddy and windy that you wouldn't even recognize it from this year," she says. She struggled to 96th place in 20:54, her slowest time of the season by far. The Foot Locker Midwest Regional went a bit better. She finished 40th in 18:43.
Her appetite whetted, Sarah trained hard over the winter. Says her father, now a devoted runner himself after decades away, "She went out on a lot of days I wouldn't have. She's very tolerant of the cold."
Able to compete fully in Michigan's indoor circuit (which is not sanctioned by the MHSAA), Sarah ended up placing eight in the 3200m at the indoor finals in 11:06.66 (Audrey Belf won in 10:31.78). Then she traveled to New York City for the New Balance Indoor Nationals, where she ran the Emerging Elite two mile, placing eighth in 10:58.96.
"I had an amazing time [at New Balance] in New York," says Sarah, "but then after that I had a couple races with competition and all of a sudden was without competition. It was really hard for me to figure out how to do the same thing I was doing in competition by myself. For most of the season I felt a little discouraged because I wasn't PRing from what I had done with competition."
In a few invitationals she found herself mixing it up with D1 stars. While she went undefeated at 3200m (she often ran 3-4 events per meet), she took her knocks at the shorter distances. Still, she finished her first track season ever with bests of 2:21.79, 5:01.46, and 10:51.98. In Greensboro at the New Balance Outdoor Nationals, she placed 16th in the 5000m with a 17:45.74, then followed with an 11:00.27 in the Emerging Elite two mile the next day.
That led to this past summer, and Sarah managed about 50 miles per week in her build-up to her second cross country season. At one point, she ran through the neighborhood where one of the local high school cross country coaches lives. "She stopped me and said, 'You should run for us,' " says the flattered Sarah.
Nevertheless, Sarah is quite happy with her membership on the Chariots team, and has nothing but praise for her coach. "One of the things I've most appreciated about Coach Shoe is that he treats me like any other member of the team," she says. "While I'm getting all this attention because of my success compared to others, Coach focuses on the effort, attitude, and perseverance I put into running, not my preexisting talent. Similarly, Coach has the same words of praise, encouragement, or correction for every single member of the team. This helps the whole team become connected because in reality we realize that the best runners aren't the ones who get the best times, but are the ones that do the best with the ability they've been given."
When the racing started this fall, she surprised Coach Shoe once more. "She dropped almost a minute from her PR," he says. "Again we were kind of shocked. I was concerned that it was a little bit of a fluke, like maybe the course was short. And when she went out and ran almost an identical time in the second race, at Ithaca. Then it was like, okay, we've got a horse on our hands here, she's really special. And this was going to be quite a ride."
By the time she got to Terre Haute, Kettel had opened a lot of eyes. She had also won every one of her races with an average margin of 1:29. Rather than be daunted by the competition, she welcomed it. "It's amazing. It's just what I wanted. I do best with competition. I can focus best. It makes the race a lot more interesting to me. It's definitely my personal preference to have competition. Going into the race, I was like, even if I don't make it to nationals, I'm just going to enjoy this because I don't get this opportunity every day to have girls right beside me."
She passed the mile well behind the pack (somewhere between 25th and 30th place). Says Shoemaker, "She has really developed a comfort level with going out a little bit slower, holding herself back at the beginning of the race, 5:30-5:40 range for the first mile, and then coming back at the exact same pace for the second mile, and then sometimes even throwing down a negative split at the end of the race."
Sarah adds, "After the 1M mark there was a slight downhill, so I took advantage of that and really pushed. My coach said that in the next quarter mile I passed about 20 girls. So then I was in the top five at the 1.5 mile mark, and then I made my way up to Audrey [Belf] and Anna Sophia [Keller] and was sitting with them for a while."
With a kilometer to go, she flew into the lead. "As soon as I made myself the leader, I was trying to surge so that they would get discouraged and they wouldn't follow me, so I surged up a hill, and then coming into the final stretch—right before the final stretch there's a downhill, so I surged down that too."
She carried her last drive to victory in 17:29, while Belf finished in 17:31 and Keller in 17:32. Suddenly, Kettel looks like a national contender. "My strongest point seems to be the middle of the race, towards the end," she says. "I'm not so much a speed demon, and I'm not able to put a very strong kick in at the end. And I'll just start dying if I put too much in the beginning. I seem to do well if I surge. I'm a very determined person, so as long as my body is not falling from beneath me, I'm able to push through and focus on the final picture."
With her next challenge the Foot Locker regional in Kenosha, Wisconsin, Kettel says she won't necessarily be using the same strategy. "I'm still not sure, because it's a different course, and there's slightly different competition, so my coach and I have to go over the plans. Every race is a different strategy."
Shoemaker adds, "I don't want to peg her. I think she's capable of running different types of races. I don't want to become too predictable in terms of how we approach each meet."
So Sarah continues to train into the colder weather after her teammates have ended their seasons. Last week she ran her speed workout at Michigan State's indoor track, where she did a VO2 test with noted coach and author Owen Anderson (a friend of Shoemaker's). She even did part of her workout with one of the Kenyan women he coaches.
With major championships the next three weekends (if all goes well), Sarah has her work cut out for her. And though she is very humble, she also has a clear passion for exploring her talent. "One of the most important things to me is my faith," she says. "That's why I run. God's given me a gift and he's given me the ability to shape it and use it. That's one of the most exciting things for me is to see what his plan is for me."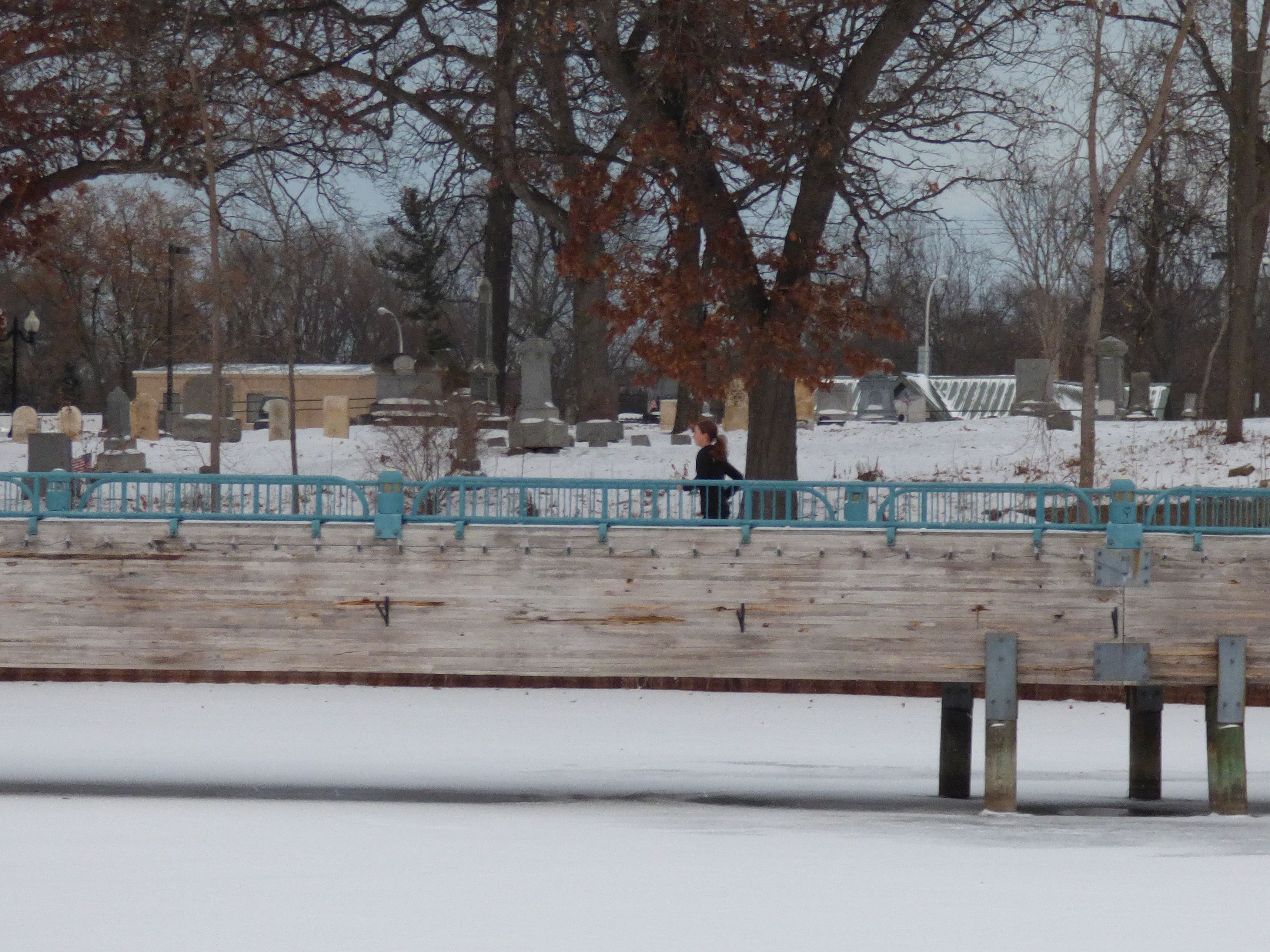 For Kettel, preparing for the Nike XC Nationals and the Foot Locker series means training alone in Michigan's winter cold. She's not bothered.