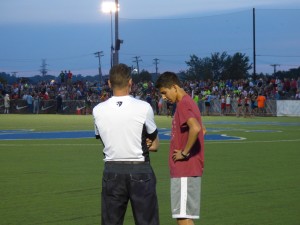 At 8:15 in the evening, a little more than a half hour before the start of the elite race at the Festival of Miles, the U.S. flag above the field goes still. The sun has set and conditions are perfect. Mike Scannell knows it. "He's ready," he says as he watches for Grant Fisher to return from his warm-up. "Maybe a little more jittery than usual today, but that's okay."
Finally the recently graduated high schooler from Michigan appears on the other side of the fence that surrounds the track area at St. Louis University High. He has to warm up away from the crowds and even the other runners. Scannell has joked about it before: "He's like a rock star." If Fisher stops running in the wrong place, he will be immediately surrounded by fans who want to take selfies with him. He was raised to be polite, so he never says no. That can create complications when there's a job at hand, so Fisher warms up away from the noise.
Fisher, still on the outside of the stadium fence, comes to a halt. The gate he has left from is now locked. He jogs around the north end of the complex and has to talk his way in at the main spectator entrance. Not surprisingly, they've heard of him. He's on the infield minutes later, doing his final strides while Scannell watches. They don't talk much. "All the talking's been done," says Scannell.
The cheers start when Fisher steps to the track. In a field of elite and professional runners, the announcer introduces him second-to-last, just before defending champion Jordan McNamara. The crowd roars when he jogs to the starting line.

photo by Tony Ettwein
When the gun goes up into the air, Fisher is not nervous. He is excited. And then it begins—four laps that will be remembered forever. The pace does not go as expected. The youngest runner in the field is not positioned ideally after the first half, which he passes in sixth place at 2:01.5. Then he does what Scannell brought him to St. Louis to do—he races.
It was never about breaking four. Not for Fisher and Scannell. They put up with the hype of the event and the pressure that brought. They ignored the chatter of the armchair coaches on the Internet—especially those who called them hypocrites for entering an event promoted as a sub-four attempt after previously saying they weren't chasing the time. They acknowledged the reality that when racing the best competition possible this track season—a pledge Scannell made last fall—Fisher might have to run fast. Racing McNamara, a 3:52 miler who was a finalist in the last Olympic Trials, could lead to a sub-4:00. Accidents happen.
That's not hypocrisy. That's competing. And that's what Fisher does on the last lap, passing McNamara on the penultimate turn to move into third. On the final turn he moves into second behind marathoner Tyler Pennel. Fisher digs, but does not have the turnover to catch Pennel, or McNamara, who sprints past both for the win.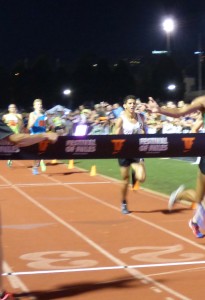 For Fisher, the clock stops at 3:59.38, a time only Alan Webb and Jim Ryun have bettered among preps. It is also the same time that Oregon high schooler Matthew Maton recorded earlier this season. The two were to duel next week at the Dream Mile in New York, but Maton's season is over because of injury. Fisher, amazingly, has never been injured.
In his first interview afterwards, he is asked how he feels. "I don't really know what just happened," he says. The emotion is genuine. No matter how many times he might have visualized the moment, it still overwhelms him: the noise, the fans, the outpouring of adulation. He just turned 18 a few weeks ago, and he is experiencing a moment that most humans of any age simply could not process logically. The insanity of it all is that had he run 62 hundredths of a second slower, these same cheering fans would have gasped in disappointment at the finish instead of cheering. Many of the voices on the Internet would have labeled him a failure.
Fame is indeed a double-edged sword. Fisher and Scannell are both acutely aware that moments like the one in St. Louis will be rare treats in his career, tempered by the challenges, the disappointments, and the losses that every great athlete has to wade through.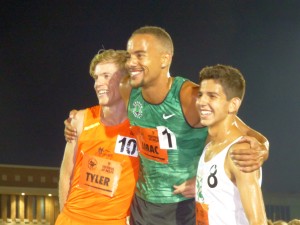 So now that the euphoria has dissipated , the selfies have been taken, and Flotrack has milked all the subscription money it can over its not-ready-for-prime-time video, what does Fisher's sub-four really mean, for himself and the track world?
Did we see the emergence of the next Great American Miler?
No. This is the same Grant Fisher that we had three minutes and 59 seconds earlier. The same Grant Fisher that gutted a 4:01.67 solo mile in the cold rain at his state championships. The same Grant Fisher who opened his season with a 4:07.29 in January. He is simply at a different point in his training, which has been carefully planned. He will be at yet another point for the Dream Mile next weekend, and a little farther along when he runs in the Brooks PR Invitational a week later. We didn't see Fisher change into anything Thursday night; we simply saw where his fitness is now. It's true that he is one of the all-time prep greats, but that was true before the gun went off. The fact that everyone is hopping on the bandwagon now to recognize him as a legend does not, in itself, make him a different person than he was before the gun went off.
Both Fisher and Scannell are glad the sub-four is out of the way. Never again will they have to answer questions about when and if it's going to happen. That alone should gain them each a few extra hours a week.
Will Fisher be a great runner in college and after?
No one who has ever noticed how real life works could honestly give a firm yes or no to that. We simply don't know. Grant Fisher is not just an athlete; he's a real person. Things happen in life. Twenty years from now, this event may pale in comparison to so many other things that he may achieve: jobs, marriage, fatherhood. One thing that his coach has always said is that the training Fisher has received was not designed to max him out now so he could be the greatest high school runner ever. It has been aimed at keeping him healthy, happy, and successful in the context of many more years of running, should he choose to continue.
But it really was about the time, wasn't it?
No. Just stop… Being glad it happened and being glad the speculation is over with does not mean it was about the time. Understand, the way that Mike Scannell coaches is about the process. Running is not an end. The time is not the goal. Running is a means to make someone a stronger, better person. It's about character. That's how Scannell thinks. If you still don't get it, look at his tweets (@RealIronMike). He knows as much about running as any coach out there, but in his world, there is always a bigger picture. I have spent hours and hours talking with him and I have never seen him more proud than when he told me that a former star athlete of his—one that didn't go on to greatness as a college runner—is now in medical school.
With two high schoolers breaking four this year, will we see many more do it in years to come?
I doubt it. Nothing's impossible, and I think we could even see another do it this season. But will the floodgates open now that Maton and Fisher have shown the way? Is this another Bannister moment? You've all heard the legend that after Roger Bannister's first sub-four in 1954, every athlete who was smart enough to tie his own shoes broke four in the following years. It's an inspiring story which is all the more convincing if you ignore the fact that World War II, which ended just nine years before, massacred a generation of potential runners and left many of the young survivors malnourished on the continent that had produced most of the world's great runners to that point. By the mid- to late 1950s, the athletic world was finally healed from the war and the sport had simply resumed its natural progress.
Or perhaps you think this is like Jim Ryun's trendsetting in the 1960s. After the Kansas legend broke four once as a junior and four more times as a high school senior, two other high schoolers followed him under the barrier in the next two years. One big difference needs to be accounted for. Ryun trained on an interval program that most modern coaches regard as dangerous and ill-advised. In Compton, after he finished eighth in his first sub-four, one of the older runners who had beaten him asked him what he was doing in training. Ryun cooly replied, "The same stuff as you, only a lot more," and walked away.
Ryun's training schedules were published and widely imitated by prep coaches around the country. Both Tim Danielson and Marty Liquori made it under four. Countless others saw their potential burned away by following inappropriate training regimens.
Will Fisher's success spawn the same sort of copycat training? We'll see. The key to the way he trains is that the program is tailored specifically for his needs. Scannell's plan is not a one-size-fits-all solution. It is based on moderation; there are no wasted steps and no workouts done without a good reason. The problem for potential imitators is that moderation is hard. I would go so far to say that, once you consider human nature, moderation in training is harder than piling on large quantities of hard work. Most coaches distinguish themselves by inspiring their athletes to do more. "If a little bit of something works, then a little more should work better." Beware, however, because greed is dangerous. It takes a special wisdom and restraint to have athletes do less and believe that is the right path; not many coaches can do that.
What does Fisher's progress mean for the rest of the season?
On Thursday night, Scannell said that the race confirmed that Fisher is where he needs to be now, but there is more improvement to come. (To the armchair coaches—he wasn't referring to a faster mile time, but was specifically talking about Fisher's ability to kick at high-speed.) That doesn't mean he's guaranteed more victories and records. In track, there are no guarantees. Every triumph has to be earned, and even then, something can go wrong.
Long after the racing in St. Louis ended, Scannell stands on the track listening carefully and offering training advice to a young runner who had recognized him. "I've got time," he says. "We're going to be here till midnight, I bet." He looks to where his young charge is surrounded by adoring fans a dozen yards away. "Everyone wants to meet him, to get his autograph, to take a selfie with him." He smiles and shakes his head. "And he's not going to say no to anyone."
Jeff Hollobaugh is the author of "How to Race the Mile: Learning Effective Tactics from Great Runners and Races." Available at Amazon, and signed copies are directly available from the author at howtoracethemile.com. Hollobaugh is currently working on a book about America's first generation of four-minute milers.