Two women had hopes of winning gold in the European Championships 1500 on the fabled Letzigrund track in under overcast skies in Zurich. Ten other women lined up, and while none of them would have terribly minded winning, they surely knew it wasn't a serious prospect–rather, these were the sort of dreams best filed in their "Rainbows and Unicorns" folders.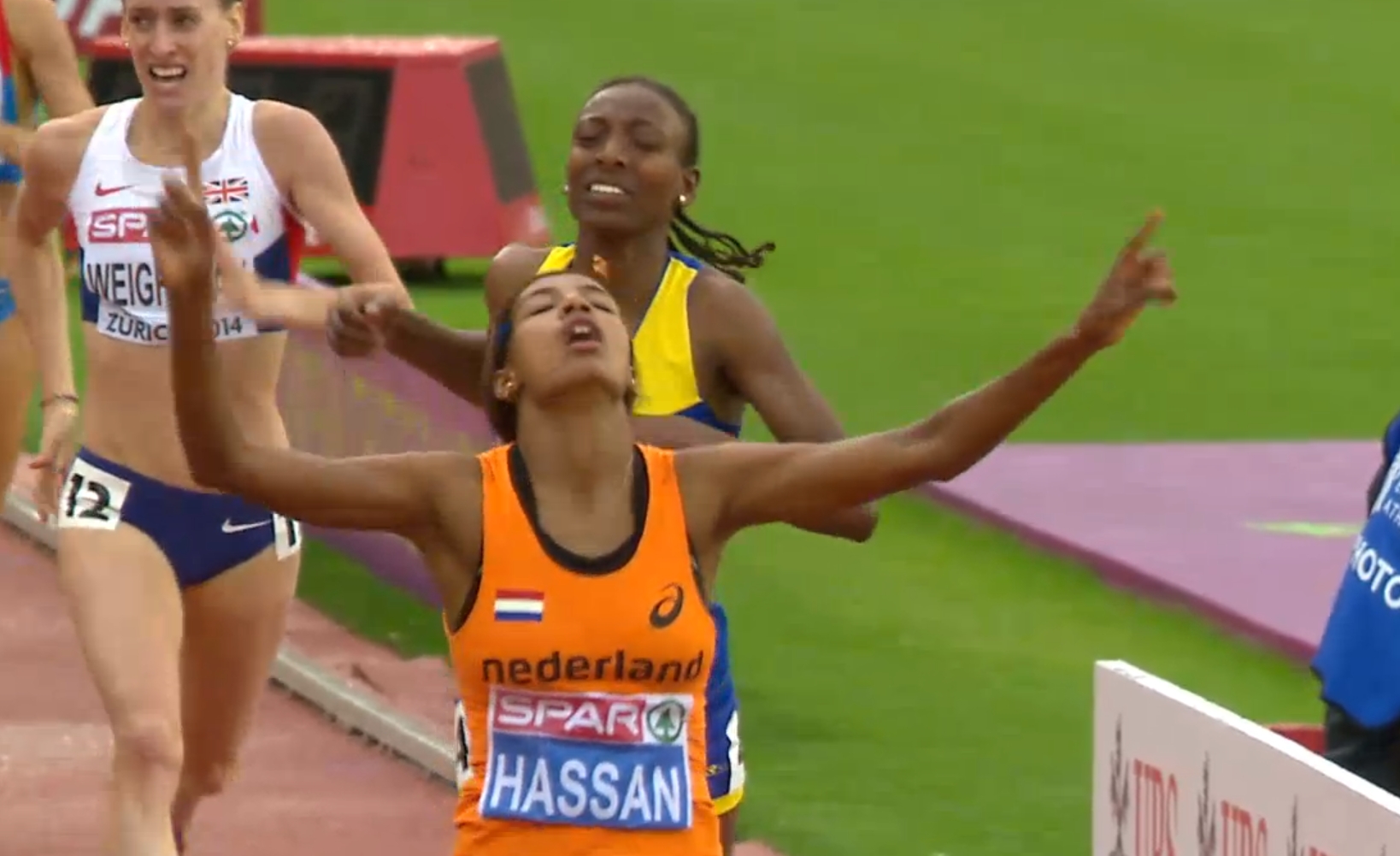 The two contenders who would dominate both hailed from Ethiopia, but their stories couldn't have been more different. Abeba Aregawi, a veteran at 24, had made it to world-class status while still running for her homeland. In 2012 she finished 5th in the Olympics wearing an Ethiopian singlet, and she set the Ethiopian national record of 3:56.54. She had been residing at least part of the year in Stockholm since 2009, and she had married her coach, Henok Weldegebriel. In December 2012 her Swedish citizenship came through. However, her adopted country has a bit of a love-hate relationship with her. Among the complaints, the relatively quick divorce that followed her citizenship made the marriage look like a union of legal convenience. Many in the Swedish media simply say that she had lied to get her papers. She also spends most of her time in Ethiopia now, and from the outside it looks suspiciously as if she had gotten the Swedish passport so that she could make international teams without the bother of competing against other world-class Ethiopians.
On the other hand, she's given Swedish sportswriters a lot to type about, and it hasn't hurt her cause among Swedish fans that she won the 2013 World Championships and the 2014 World Indoor title wearing yellow and blue.
Sifan Hassan is a very different case. A legitimate immigrant, she found herself in a Dutch refugee camp at age 15. That's where she decided to take up jogging. By the time she was 18–the age of a high school senior in the U.S.–she had hit 4:20.13 in the 1500. Since then, coaches Honoré Hoedt and Aiduna Aitnafashe have guided her to remarkable improvement. She gained citizenship in the Netherlands in 2013–a five-year process for her. In June 2014, she stunned Jenny Simpson and the world at the Areva meet in Saint-Denis by kicking her way to a world-leading time of 3:57.00.
The two fashioned very different strategies for winning the Euro title. Aregawi stated hers simply: "I was aiming for gold. The plan was to constantly keep me in front of her. I wanted to use my technique." Perhaps there was more to the plan, but after the race when she tearfully spoke to reporters, she didn't go into the finer points.
Taking her words at face value, the biggest problem is apparent: she doesn't have eyes in the back of her head. With Hassan running in last place for the first 800m, Aregawi was lost, running near the front of the pack on a pace of someone else's choosing, waiting for the action to begin.
Suddenly, Hassan's rather cheeky strategy begins to look like genius. The 21 year-old Dutchwoman seemed not at all concerned to be bringing up the rear. Indeed, she chose it from the start, and followed as the leaders ran 65.95 and 2:15.12 for the first two circuits, she calmly ran 66.8 and 2:15.9.
"I really wanted to win," said Hassan. "I got a little scared when the race started so slowly, I'm the best when it goes fast."
Laura Weightman of Britain sped things up for the third lap. "I didn't know how to play it but [at 800m] no one was doing anything, so I wanted to push it along. At the bell I knew Hassan and Aregawi were going to come past."
Then, with 550m to go, Hassan made her big move, passing everybody before the bell rang–why drag it out?
After the bell, Hassan led into the turn. Then Aregawi made mistake number two. She immediately responded and tried to crush the youngster with a long kick from the 350 mark. Said Hassan, "I had to work very hard to run from the back to first place and was shocked when she caught me again in the final lap. I did not expect that." The youngster responded brilliantly. Rather than panicking and battling back for the lead immediately, she tucked in and remained patient. "I waited until the last 100m."
For the next 200m, Aregawi bore the brunt of leading without building any sort of a margin. Then, halfway through the final turn, Hassan struck, and her fresher legs carried her to a winning margin of 0.90. "It was difficult and exciting," said the victor, who had run 60.81 for the final lap–and more impressively, 1:15.4 for the last 500 (a 3:46 pace).
One can only wonder if Aregawi's result would have been better had she stayed tucked in behind Hassan on the last lap and forced the kid to do the leading on the backstretch. Would Hassan's kick in the last 150m have been blunted? Would Aregawi's legs have been able to mount a better challenge on the final stretch?
Aregawi's teary resolve afterwards promised many great matches to come. "I tried to go early, but I had nothing at the end. Sometimes you win and sometimes you lose… Sifan is strong. She is in better shape right now… I will take it back. I will come again."
Results (15 August 2014): 1. Sifan Hassan (Netherlands) 4:04.18; 2. Abeba Aregawi (Sweden) 4:05.08; 3. Laura Weightman (Great Britain) 4:06.32; 4. Renata Pliś (Poland) 4:06.85; 5. Federica Del Buono (Italy) 4:07.49; 6. Hannah England (Great Britain) 4:07.80; 7. Anna Shchagina (Russia) 4:08.05; 8. Diana Sujew (Germany) 4:08.63; 9. Ingvill Måkestad Bovim (Norway) 4:08.85; 10. Nataliya Pryshchepa (Ukraine) 4:08.89; 11. Svetlana Karamasheva (Russia) 4:11.35; 12. Amela Terzić (Serbia) 4:19.11.