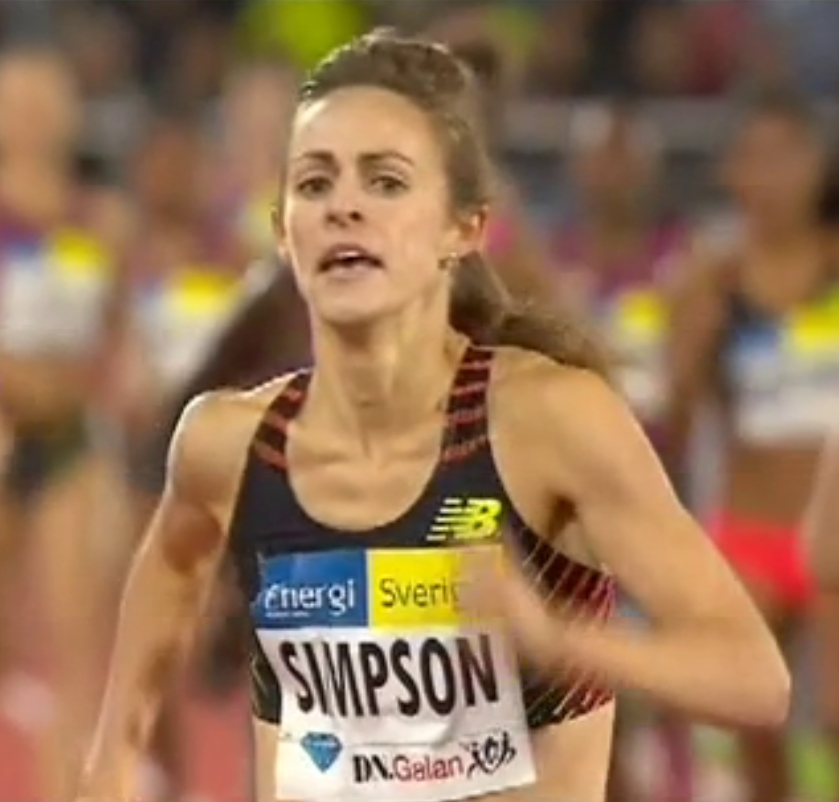 Rarely do the fans who watch a Diamond League middle distance race get to see a truly brave competitive effort. Nothing is more difficult than crafting your own work of art when someone else–namely, the rabbit–is holding the paintbrush for the first half of the race. While the hard work of the rabbit certainly gives much assistance to the athletes, it also can place limitations on them, especially if the pacer is not up to the task. Such was the predicament that the milers in the Stockholm Diamond League event faced.
This year's DN Galan featured an amazing field, including all of the medalists from the recent European Championships: Sifan Hassan, Abeba Aregawi, Laura Weightman, plus Americans Jenny Simpson and Shannon Rowbury. Throw into that mix Genzebe Dibaba, the Ethiopian who went on a world record binge indoors but has since lost form. Was she able to sharpen her fitness during the long 34-day break in the Diamond League schedule?
The directors asked Tamara Tverdostup of the Ukraine, the rabbit, to take the field through an ambitious 2:05 first 800m. Tverdostup, at 35 in the waning seasons of her career, has a 2:00.76 best for 800m, but that was more than a decade ago. In recent years, when not rabbiting, she has concentrated on the 1500. Her best, 4:07.43, came five years ago. This May, however, she came close with a 4:08.16. Perhaps 2:05 was a tall order for her.
Regardless of the rabbiting situation, Genzebe Dibaba had her own plans. In a two-week period indoors in February, she destroyed three indoor world records: the 1500 (3:55.17), the 3000 (8:16.60), and the two mile (9:00.48). She may have been a girl on fire, but somehow water got thrown on her a few months later when the outdoor racing started. Her best 3000 since then came in early May, an 8:26.21 for 6th place in Doha. She also saw herself outkicked in Lausanne and at the recent African Champs. Perhaps she lacked faith in her own finishing skills when she lined up in Stockholm, but she clearly decided she needed to go bold early here.
As the gun sounded and the rain fell, Dibaba sprinted into the lead of the 15-woman field, with Jenny Simpson on her heels. Tverdostup had been lined up to the outside of them, and had to work hard to get into the lead on the turn. Meanwhile, the star of the moment, young Hassan, bolted from her outside position in the line-up and made a beeline for the rail and last place. The Dutchwoman–holder of the fastest outdoor 1500 of the year at 3:57.00–turned a last place start into gold the previous week at the Euros. However, here the move smacked more of rookie issues with geometry. She ran needless extra strides, and then struggled to get around the large pack to find her racing position. She hit the 200 in 32.8, then churned a 30.9 around traffic. Not until 650m did she get into position to focus on and chase Dibaba, but how spent was she after her first lap? She said, "It was a crazy race. They went off far too fast and then everyone got so tired. I just lost myself."
Up front, Tverdostup passed 400 in 62.14, with Dibaba a stride behind at 62.3. Aregawi ran third, and Simpson ran fifth in 63.3. After the next turn, Dibaba, anxious to move faster, came up on the heels of the slowing rabbit, and when the track straightened out she squeezed by her on the inside. Contracted to run two laps, Tverdostup was clearly flustered when Dibaba pushed her aside and took over the lead more than 100m early. She chased her into the turn, and then jogged to a stop in dispirited, aw-just-screw-it fashion. Dibaba, frustrated by the rabbit's slowdown, poured it on, hitting 800m in 2:05.95 after a 15.6 turn. Hassan (2:07.6) had made it up to second by that point, with Aregawi holding onto third. Simpson (2:08.2) had fourth ahead of surprising Brenda Martinez. Aregawi would soon fade, troubled by an injured hamstring.
Dibaba's lead over Hassan stretched to over 10 meters on the turn approaching the kilometer mark. Simpson, running powerfully, had passed Aregawi. In contrast, Hassan's chase seemed ragged and desperate. In fighting to narrow the gap, she drained her own reserves, already pummeled by her first lap positioning.
With 400 left (2:54.98), Dibaba held a 9m lead over Hassan (2:56.2), as Simpson followed a long stride behind (2:56.6). Fast splits, but a sub-4 didn't seem likely, as no one in the field would have a 60-second closer in their legs after that torrid early pace. Dibaba hit 1200 in 3:11.16, her gap narrowing, as Hassan had made up a half-second and Simpson a little more. On the backstretch, Hassan brought herself to Dibaba's heels, but the two pursuers showed a marked contrast. Hassan strained with every step, while Simpson forcefully used her arms to create the promise of a strong finishing drive.
Coming off the final turn, both pursuers pounced on the fading Dibaba. Hassan got to her shoulder almost immediately, then started losing ground as Dibaba lifted for home. Simpson ran wide to get around Hassan, and launched the best sprint her legs had. She flew by Dibaba with 40 meters left, clocking a 63.8 final circuit to win in 4:00.38. Dibaba finished in 66.02, Hassan in 65.4. For all except Simpson, it was the slowest lap of the race.
"When the wind was blowing and the weather was coming down on us I kept telling myself the most relaxed person will win tonight," said Simpson. "Over the last 400m I had a little bit of doubt in my mind but I saw that they were struggling and I told myself 'just keep going, keep going' and I ran harder than I have ever run in my life."
The two vital questions of the day: Would Hassan have been a possible winner had she not run into traffic problems on the first lap, followed by panic? Would Dibaba have had enough margin to hold off Simpson had the rabbit not slowed her down in the first half of the second lap?
Speaking in an earlier interview with me, Simpson talked about rabbits with frightfully prophetic words: "It seems that there are very few 1500m races for the women that are rabbited well. I'm especially nervous when we're standing on the starting line and the rabbit is there, and the rabbit doesn't have a watch. It seems to me that if you're practicing splits, then you're doing it with a watch. And if you're not doing it that way today, it just makes me nervous."
Do you even have to ask? Of course, Tamara Tverdostup wasn't wearing a watch. Not that Jenny Simpson has anything to complain about. Genzebe Dibaba, on the other hand…
Watch a partial video of the race.
Results (21 August 2014): 1. Jenny Simpson (USA) 4:00.38; 2. Genzebe Dibaba (Ethiopia) 4:01.00; 3. Sifan Hassan (Netherlands) 4:01.62; 4. Shannon Rowbury (USA) 4:02.96; 5. Viola Kibiwot (Kenya) 4:04.17; 6. Laura Muir (Great Britain) 4:04.71; 7. Meraf Bahta (Sweden) 4:05.39; 8. Brenda Martinez (USA) 4:07.40; 9. Renata Pliś (Poland) 4:07.72; 10. Abeba Aregawi (Sweden) 4:07.75; 11. Axumawit Embaye (Ethiopia) 4:08.30; 12. Gudaf Tsegay (Ethiopia) 4:08.34; 13. Ingvill Måkestad Bovim (Norway) 4:10.97; 14. Laura Weightman (Great Britain) 4:14.92;…rabbit–Tamara Tverdostup (Ukraine).